The FDA has released new requirements for the nutrition facts label. The new label will go into effect by July 26, 2018.
What do we all have in common when it comes to the raising of healthy children? Isn't the peace of mind that comes from knowing that we are providing them with the food they need to grow healthy and strong? I am not suggesting that food alone is the answer to a happy, healthy child but the FDA has made a necessary contribution by taking a long overdue step toward providing us with the updated information that will soon be available with the new nutrition facts label.
Below are a few questions and links you may find interesting that provide additional information to help you gain a better understanding how the new label will affect your food choices.
Why was the nutritional facts label updated?
Per the FDA, "The current label is more than 20 years old. In order to make sure consumers have access to more recent and accurate nutrition information about the foods they are eating, it's time to make changes to the Nutrition Facts label. The changes announced today are based on updated scientific information, new nutrition and public health research, more recent dietary recommendations from expert groups, and input from the public."
Label Format: Original vs. New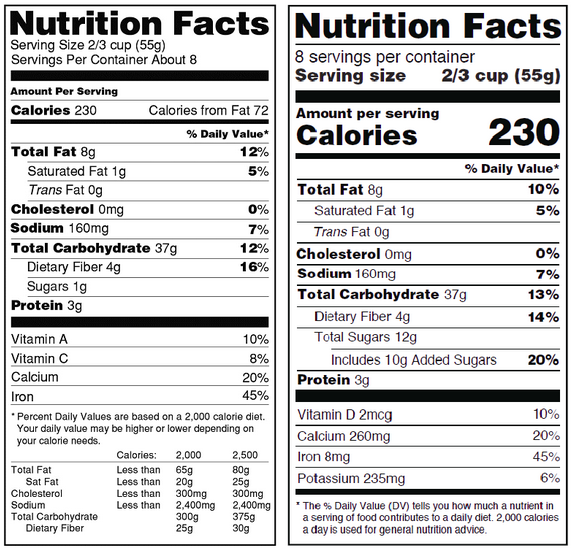 Note: The images above are meant for illustrative purposes to show how the new Nutrition Facts label might look compared to the old label. Both labels represent fictional products. When the original hypothetical label was developed in 2014 (the image on the left-hand side), added sugars was not yet proposed so the "original" label shows 1g of sugar as an example. The image created for the "new" label (shown on the right-hand side) lists 12g total sugar and 10g added sugar to give an example of how added sugars would be broken out with a % Daily Value. (Source)
Who will benefit from the new label?
"People who want make healthier food choices will really benefit from the more prominent display of calories and updated information about serving sizes that more accurately reflects what people are likely to eat in one serving." (Robert M. Califf, M.D., and Susan Mayne, Ph.D. – Source)
Will the new label make a difference in what I eat?
The nutritional facts label is used to measure macro-nutrients (fats, carbohydrates and protein). Added to the new label will be vitamin D and potassium. The updated label is an improvement likely to be noticed due to the increased serving size and larger text size for the calories. And, that may be enough to adjust the consumption of sugary foods. Per the FDA, "Nutrition Facts label will make it easier for consumers to make informed decisions about the food they eat."